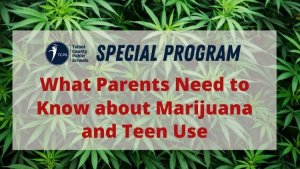 Talbot County Public Schools invites you to a webinar entitled: "What Parents Need To Know About Marijuana and Teen Use" on May 27 at 3:00 p.m.
Pre-registration is required. Use this link to register: opens in a new windowWebinar Registration. Once registration is complete, a zoom link will be sent to your email.
Please join us for the opportunity to learn about:
-medical marijuana vs recreational marijuana
-CBD (cannabidiol)
-marijuana experimentation and dependence
-methods of using
-marijuana and the teen brain
-negative effects on school and social life
-common signs of teen-use
-prevention tips and tips on encouraging healthy choices among teens
There will be an opportunity for Q&A at the end.
Guest Speaker from the Health Department:
Beth Williams - Prevention Consultant
If you have any questions, please contact:
Madison Elliott, B.S.W.
Addictions Interventionist
opens in a new windowmadison.elliott@talbotschools.orgcreate new email
Talbot County Public Schools