TCPS Announced the 2023 Teacher and Support Staff of the Year at the Talbot Stars Celebration on May 3rd. Congratulations to all of our finalists, and to our 2023-2024 Support Staff of the Year Suzy Warrington, Instructional Assistant at Easton Middle School, and Teacher of the Year Cindy Rossbach, Special Education Teacher at Easton Elementary! It was a phenomenal celebration of TCPS Educators!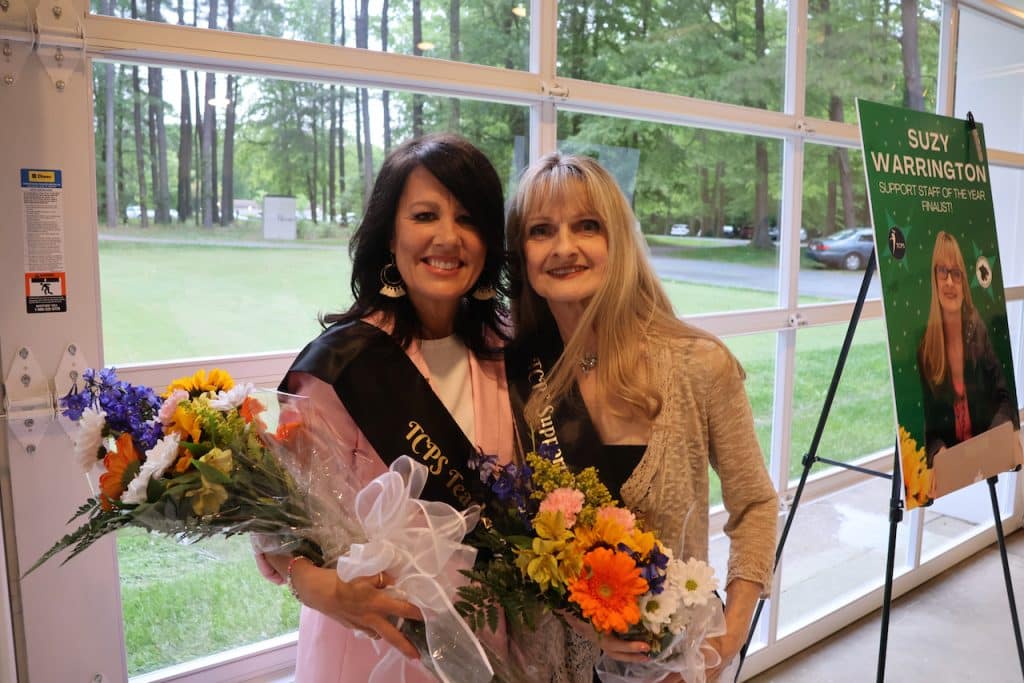 Suzy Warrington- Support Staff of the Year 
Ms. Warrington brings over two decades of experience to her role as an Instructional Assistant at Easton Middle School, having joined Talbot County Public Schools in 1996. In her current position, she works tirelessly to support students with diverse needs, implementing effective behavior plans, conducting reading interventions, and providing after-school tutoring. Suzy is a true team player who consistently goes above and beyond, both in the classroom and in the afterschool program. Her unwavering kindness, patience, and warmth create a positive and nurturing environment for all students.
Cindy Rossbach- Teacher of the Year
Cindy Rossbach is a highly dedicated Special Educator who is always striving to improve the educational outcomes of her students. Her lessons are engaging and inclusive, catering to the needs of all students.  She is an insightful educator who understands the social and emotional challenges facing her students. Cindy embodies the ideal of meeting the needs of the whole child.
Ms. Rossbach earned a  Master's Degree in Science of Education from Walden University and a Bachelor's Degree in Special Education from Liberty University.
2023 Talbot Stars Celebration