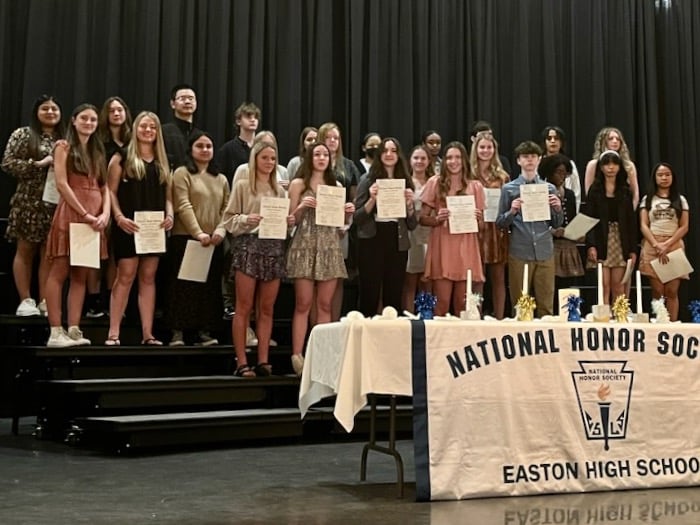 The Easton High School J. Willard Davis Chapter of the National Honor Society (NHS) held an induction of 28 new members on April 13, 2023.  This was the second NHS induction for the chapter during the current school year.  Ms. Katherine Curry, Easton High Social Studies teacher, was the guest speaker.
NHS is a national organization established in 1921, which recognizes students who have demonstrated excellence in scholarship, service, leadership, and character. To be considered for induction into the National Honor Society, students must meet minimum criteria, which include a cumulative GPA equal to or greater than 86.5%, cumulative attendance rate equal to or greater than 94%, no more than 2 disciplinary referrals, and completion of at least 100 service learning hours.  Qualifying students are given the opportunity to submit applications and recommendations, which are reviewed by Easton High School faculty.
"Our National Honor Society represents our greatest scholars, our greatest athletes, those who serve our community, and those who make our world a better place," Mrs. Curry said. "Today, I challenge you all to consider the responsibility that comes with being members of this wonderful organization. You must continue to show up for your school, your classmates, your community, yourself. What that looks like is going to be up to you."
The April 2023 Easton High NHS inductees are as follows:
Senior:  Elainy Sanchez
Juniors: Kate Adelman, Iven Chen, Dylan Fink, Emma Friedel, Mikayla Gibson, Kaleigh Hammond, Julian Hutchison, Abigail Wise
Sophomores: Leilani Brooks, Charley Calka-Webb, Patty Dongarra, Gabriella Hamsher, Laillah Janes, Kirn Khan, Rhyan Kirby, Regan Lewis, Mia Mazzeo, Viviana Morris, Olivia Orrell, Serenity Palmer, Sophia Perlado, Aleah Shane Solivio, Mackenzie Spies, Sofia Stecher-Roberts, Bree Stevens, Gabriella Streaker, Logan Sundt
"I congratulate each of the new inductees, as well as their families, for all of the dedication and hard work throughout their educational career that has led up to this moment," said Sherry Spurry, Easton High Principal. "All of your achievements in scholarship, leadership, service, and character are honored here today by your induction into this prestigious organization."
This year's NHS Officers are Alondra Moreno-Santana, President; Cathryne Christopher, Vice President; Estella Thomas, Treasurer; Caleigh Freeman, Secretary; Kat Booth, Historian; Julian Bauer, Parliamentarian; Sydney Lanier, Junior Representative; and Isabella Jobeck, Junior Representative
Ms. Samantha Wasson, Science Teacher, is the Advisor for the Chapter and coordinates the application process and induction.