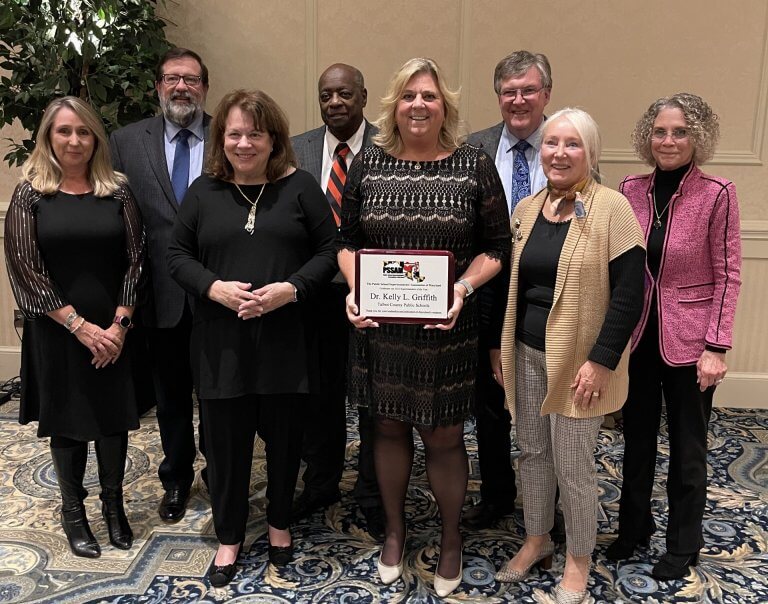 From left: TCPS Assistant Superintendent for Instruction Dr. Helga Einhorn, Board Vice President Michael Garman, TCPS Board Attorney Rochelle Eisenberg, Board Member Otis Sampson, TCPS Superintendent Dr. Kelly Griffith, TCPS Director of Technology Steve Wilson, TCPS Board President Susan Delean-Botkin, Assistant Superintendent for Support Services Lynne Duncan
The Public School Superintendents' Association of Maryland (PSSAM) named Talbot County Public Schools Superintendent, Kelly L. Griffith, Ed.D. the Maryland Superintendent of the Year at the Maryland Negotiating Service Conference. A committee of her peers selected Dr. Griffith, and she will now go on to represent Maryland in the 2022 National Superintendents of the Year Program.
"I am very honored to be chosen by my fellow Maryland Superintendents to represent our state at the national level," said Dr. Griffith.  "Together we have navigated an unimaginable situation and faced daunting challenges during this past year by working collaboratively as a team. I am also thrilled to be able to celebrate what we have accomplished in Talbot County during my time as Superintendent, none of which would have been possible without the steadfast commitment, creativity, and initiative of our team of educators. Our strategic planning process has been our compass to help us navigate this past year with many successes. Every individual who has worked on behalf of the children of Talbot County deserves our appreciation now more than ever.  Teachers, bus drivers, administrators, custodians, and support staff, along with our very supportive Board of Education have all made essential contributions to our school district and I am proud and grateful beyond words."
"We are honored to have Dr. Kelly Griffith represent the state of Maryland as our Superintendent of the Year," said Dr. Patricia Saelens, President of PSSAM. "This is a well-deserved honor, after many years of dedication and advocacy on behalf of the students of Maryland."
Dr. Griffith has been Superintendent of Talbot County Public Schools for 9 years.  She holds a doctoral degree in Educational Leadership and Innovation from Wilmington University, and a master's degree in Educational Administration from Salisbury University, where she also earned her undergraduate degree. She has been an educator for 39 years, and this is her 34th year in the Talbot County Public School system, where she started as a teacher in 1988.  Her leadership positions included serving as an assistant principal and principal of Easton Middle School, principal of Easton and Chapel District Elementary Schools, as well as Easton High School, Director of Student Programs and School Improvement, and Assistant Superintendent of Administrative Services. She was appointed as the Interim Superintendent in 2013 and was officially appointed TCPS Superintendent in 2014 after a national search was conducted.
Believing in the importance of setting measurable goals, Dr. Griffith led a team of educators and community stakeholders to develop and implement the school district's first comprehensive strategic plan. 2020 Vision was a five-year plan that focused on three overarching goals with specific measurable outcomes intended to ensure that all TCPS students graduate college and career ready: Academic Excellence, Partnerships, and Organizational Resources. By "budgeting for the plan and working the plan" many successes and accomplishments were achieved, including new curricula at the elementary and secondary levels, additional Advanced Placement and Career and Technical Education Opportunities, expansion to a 1:1 student to device ratio for technology, expanded Social and Emotional Learning services and staffing, and significantly improved graduation and drop-out rates.  Dr. Griffith and her team expanded the district community partnership program, to include establishing an Education Foundation that has raised more than $570,000 to support grants for teachers, students scholarships, internet access for students, and mental health services in schools.
Susan Delean-Botkin, Talbot County Board of Education President stated, "The Talbot County Board of Education was very pleased to nominate Dr. Kelly Griffith for superintendent of the year.  Dr. Griffith was always two steps ahead in working through the challenges of the pandemic.  She had the well-being and educational needs of the children as the priority and everything else fell into place." Ms. Delean Botkin added,  "Pivot was our word of the year, and Dr. Griffith excelled at getting the entire system to pivot our way to a 96% graduation rate and a 2% drop out rate.  We love our Superintendent!"
Dr. Griffith has also been active in a number of educational and professional associations including: Public School Administration Association of Maryland (PSSAM, President 2020), Eastern Shore of Maryland Educational Consortium (ESMEC, President 2017), Maryland Association for Elementary School Principals (President 2005), Team Leader for Middle States Accreditation visits, Maryland Teacher of the Year Judge, Maryland Principal's Advisory Council for MSDE, Member of Every Student Succeeds Act (ESSA) Stakeholder Committee, CEASOM Committee Member since 2012, and Executive Board Member of Maryland Negotiations Services (2011-13). In addition, she has presented at numerous conferences across the state and nationally.
Dr. Griffith remains involved in the community as an Easton Rotarian (currently President-Elect), a member of the Talbot Family Network, Talbot Mentors, Junior Achievement Board and the Local Emergency Preparedness Committee, and is an Executive Board Member of the Talbot County Chamber of Commerce.  She continues to volunteer for the Waterfowl Festival, Meals on Wheels, and Junior Achievement.  She lives in Grasonville with her husband Barry and they have three adult sons: Jake, Brady, and Wyatt.