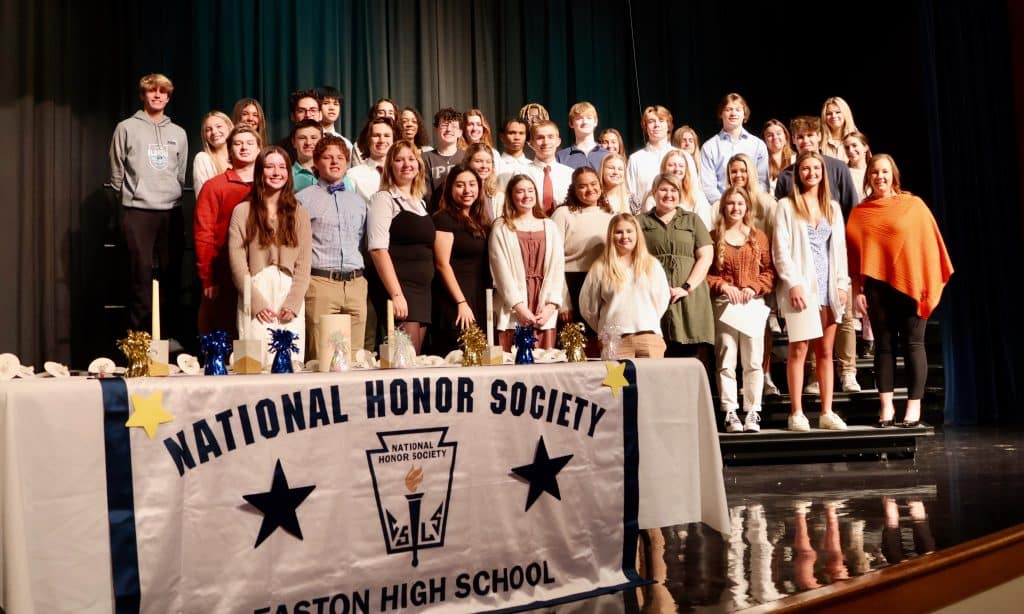 The Easton High School J. Willard Davis Chapter of the National Honor
Society (NHS) held an induction of new members who applied in the Fall of 2022. Another
induction will take place in April for Spring 2023 applicants.
NHS is a national organization established in 1921, which recognizes students who have
demonstrated excellence in the areas of scholarship, service, leadership, and character. To
be considered for induction into the National Honor Society, students must meet minimum
criteria which include a cumulative GPA equal to or greater than 86.5%, cumulative
attendance rate equal to or greater than 94%, no more than 2 disciplinary referrals, and
completion of at least 100 service learning hours.
Qualifying students are given the opportunity to submit applications and recommendations,
which are reviewed by Easton High School faculty. The January 2023 Easton High NHS
inductees are as follows:
Seniors: Taylor Chaney, Emily Dahlen, Emily Dickinson, Angelina Duschel, Cameron Lewis,
Samantha Mason, Tanai Wilson
Juniors: Calvin Bui, Emily Currie, Evan Ensminger, Samantha Jessee, Charlie Kaminskas,
Jack Kilbourne, Sabin Long, Gavin McGlinchey, Will O'Donnell, Sophia Principe, Noah
Ramos, Jordan Regan, Jonah Rich, Taylor Roach, Olivia Robinson, Morgan Sauca, Colin
Smith, Mattie Smith, Bradyn Speakman, Matthew Svehla, Brady Tipton, Selene Wagner,
Faith Walstrum
The current chapter officers are: Alondra Moreno Santana, President; Cathryne
Christopher, Vice President; Estella Thomas, Treasurer; Caleigh Freeman, Secretary; Kat
Booth, Historian; Julian Bauer, Parliamentarian; Sydney Lanier, Junior Representative;
Isabella Jobeck, Junior Representative. Ms. Samantha Wasson, Science Teacher, serves
as the Chapter Advisor.
"I congratulate each of the new inductees, as well as their families, for all of the dedication
and hard work throughout their educational career that has led up to this moment," said Ms.
Sherry Spurry, Easton High School Principal. "All of their achievements in scholarship,
leadership, service, and character are honored by their induction into this prestigious
organization."