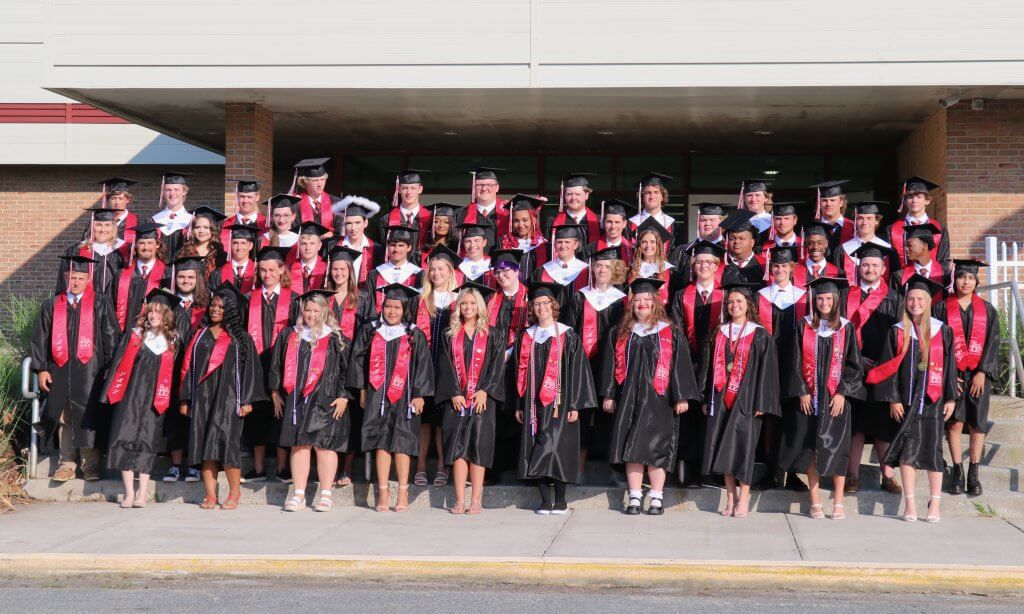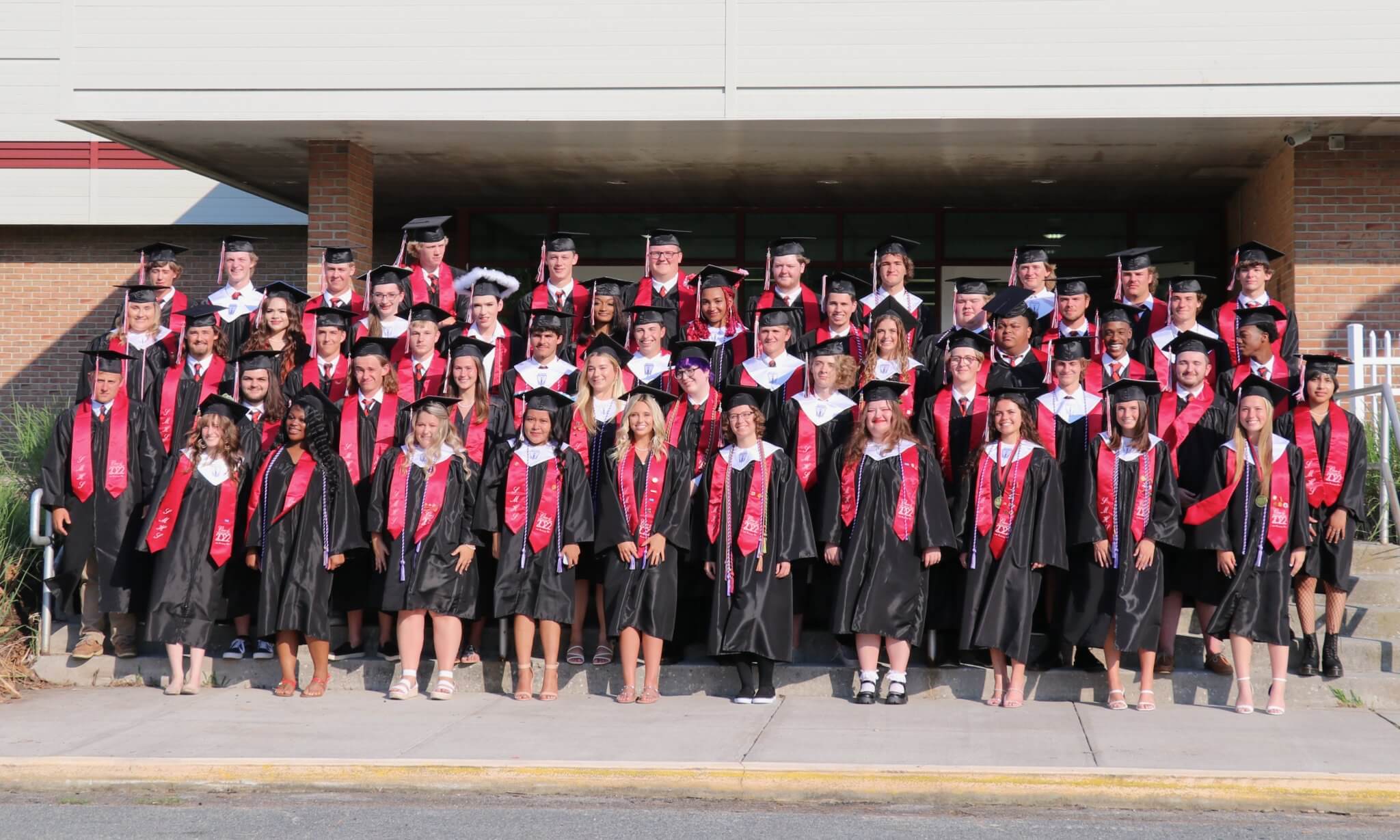 (Top) Middle High School Class of 2022 included  57 graduates receiving diplomas. (Bottom) The Easton High School Class of 2022 included 271 diploma recipients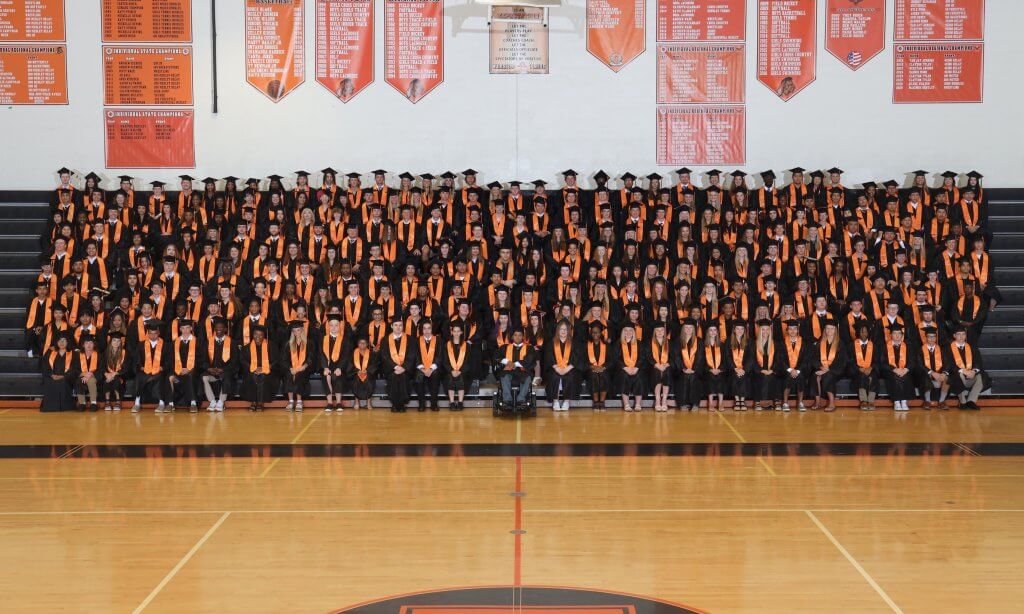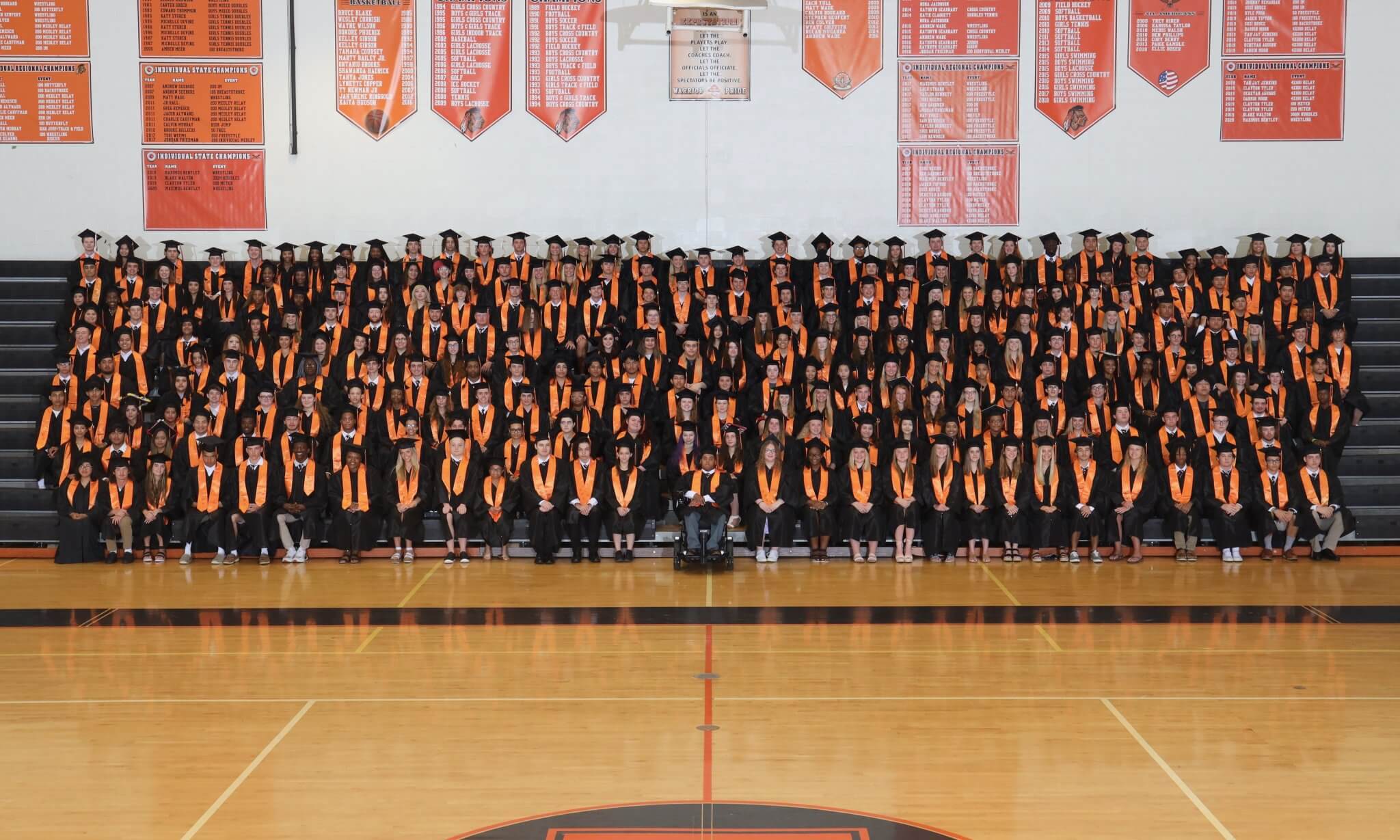 Easton High and Saint Michaels Middle High schools have announced preliminary achievement results for the graduating class of 2022. A total of 333 students received diplomas or certificates, 276 from Easton High and  57 from St. Michaels Middle High.  Of the students receiving diplomas, the school district reports that  224 plan to enter a two- or four-year college or technical school, 87 will enter directly into the workforce and a record high 17 will serve our country in the military.
Of the TCPS Class of 2022 diploma graduates:
177 (54%) completed at least one Advanced Placement course before graduating.
76 (23%) students earned credit for at least one dual enrollment course at the community college level.
129 (39%) seniors fulfilled requirements for at least one Career and Technology Education Completer program, with 14 student students completing more than one.
The composite SAT score was 1051 for math and critical reading.
TCPS graduates were awarded a total of $18,862,603 in scholarships, with $861,948 in local scholarships.
The preliminary graduation rate for TCPS high schools is 97.03% with a drop-out rate of just .60%.
"These graduates have persevered through a very challenging time for students and educators." said Dr. Kelly Griffith, TCPS Superintendent.  "Their successes are a direct result of their talent, determination, and resilience, and the dedication and support of our staff.  I congratulate the class of 2022 for their outstanding results. I am very proud of them all and wish them continued success in their next endeavor in college, career, or military service."
The list of colleges and universities to which TCPS students were accepted includes highly competitive colleges and universities focused on liberal arts and science and technology, military academies, and art, culinary and technical institutes. The complete list is as follows:
Albion College
Alfred University
Allegheny College
Appalachian State
Arcadia University
Auburn University
Automotive Training Center(ATC)
Bates College
Belmont University
Boston College
Boston University
Bowie State University
Bradley University
Bridgewater College
Butler University
Capitol Technology University
Catholic University
Catholic University of America
Cedarville University
Champlain College
Chesapeake and Regent University
Chesapeake College
Christopher Newport University
Clark Atlanta University
Clemson University
Coastal Carolina University
College of Charleston
College of Notre Dame
College of William and Mary
Colorado State University
Converse University
Delaware Valley University
Drexel University
Duquesne University
East Carolina University
Edinboro University
Elizabethtown College
Elon University
Emory and Henry College
Endicott College
Florida Atlantic University
Florida Gulf Coast University
Florida Institute of Technology
Frostburg State University
Furman University
Gannon University
Gardner- Webb University
Geneva College
George Mason University
George Washington University
Georgia Tech
Goucher College
Hampton University
High Point University
Hofstra University
Hood College
Howard University
Indiana University of Pennsylvania
Iowa State University
James Madison University.
Juniata College
Kansas University
Laboratory Institute of Merchandising College
Lafayette College
Lehigh University
Liberty University
Louisiana State University
Loyola University of Maryland
Marist College
Maryland Institute College of Art
Marymount University
McDaniel College
MD State Police Cadet Program
Mercyhurst University
Methodist University
Miami University
Michigan State University
Millersville University
Morgan State University
Mount St Mary's University
New Jersey Institute of Technology
New York Institute of Technology
Newman University
North Carolina A&T State University
North Carolina State University
Northwestern University
Norwich University
Notre Dame of MD
Nova Southeastern University
Ohio University
Old Dominion University
Pace University
Palm Beach University
Penn State Mont Alto
Penn State University
Penn State- University Park
Pennsylvania College of Technology
Purdue University
Quinnipac University
Rensselaer Polytechnic Institute
Rochester Institute of Technology
Salisbury University
Savannah College of Art and Design
Seton Hall
Shepherd University
Shippensburg University
Slippery Rock
South Carolina University
St. Johns College
St. Mary's College of Maryland
State University of New York (SUNY)
Stevens Institute of Technology
Stevenson University
Stony Brook University
Susquehanna University
Temple University
Texas Christian U
Towson University
Transylvania University
Universal Technical Institute (UTI)
University of Alabama
University of Arizona
University of Colorado, Boulder
University of Connecticut
University of Dallas
University of Dallas – Arlington
University of Dayton
University of Delaware
University of Iowa
University of Kansas
University of Kentucky
University of Lynchburg
University of Maine
University of Maryland Baltimore County
University of Maryland College Park
University of Maryland Eastern Shore
University of Massachusetts Amherst
University of Massachusetts-Boston
University of Massachusetts
University of Miami
University of Mississippi
University of Montana
University of Nebraska – Lincoln
University of New Hampshire
University of New Mexico
University of North Carolina
University of North Carolina Charlotte
University of North Carolina Greensboro
University of North Carolina Wilmington
University of North Florida
University of Oregon
University of Pennsylvania
University of Pittsburgh
University of Rhode Island
University of Scranton
University of South Carolina
University of South Florida
University of Tampa
University of Vermont
University of West Florida
University of Wyoming
Ursinus College
Utah State University
Virginia Commonwealth University
Virginia Military Institute
Virginia Tech
Virginia Wesleyan University
Washington College
Washington University in St. Louis
Waynesburg University
West Chester University
West Virginia University
Western Carolina University
Widener University
Wilson college
Winthrop University
Xavier University
York College of Pennsylvania