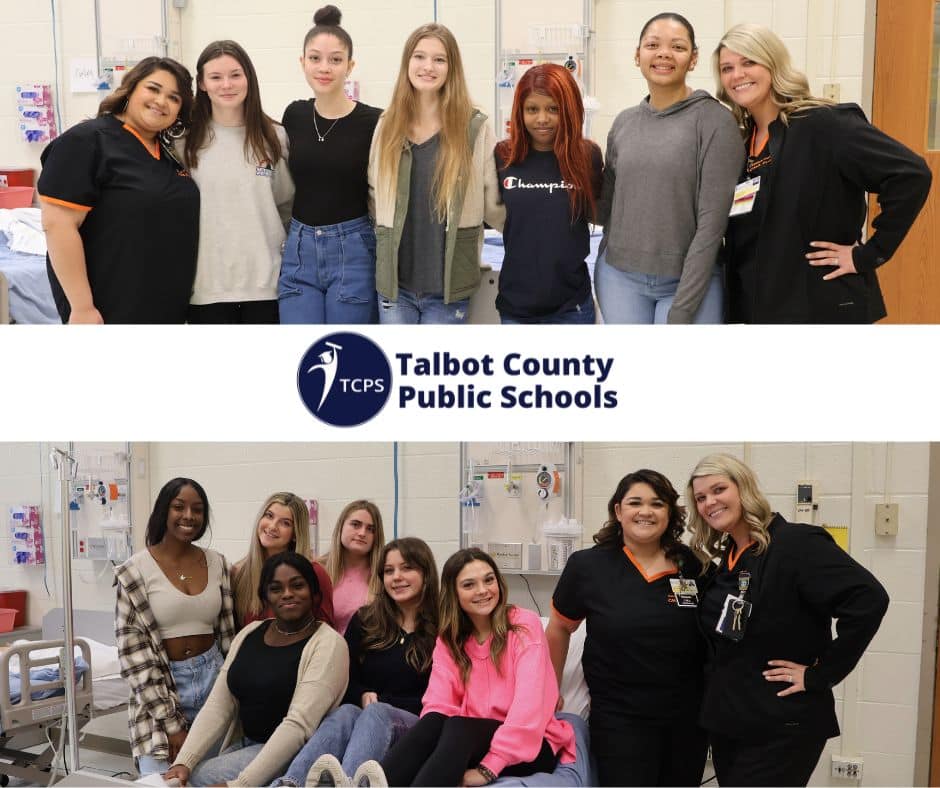 Top: (left to right) Mariah Sorrell BSN, RN, (CNA Instructor); Abigail Meadows (12th), Nai'ema Pierce (11th), Katelyn Martin (12th), Karlee Holly (11th), Jazaiah Jackson (12th), Brittney Nichols, RN (CNA Instructor).
Bottom: (left to right, back row)   Ty'Mira Pinkett (12th), Makenzie Ewing (11th), Emily Dickinson (12th); (front row) Torian Copper (12th), Reagan Saia (11th), Peyton Jones (12th), Mariah Sorrell BSN, RN & Brittney Nichols, RN, (CNA Instructors).
A cohort of 14 high school juniors and seniors have officially earned Certified Nursing Assistant (CNA) credentials. All of the students completed 100 theory hours, 40 clinical hours, and an exam as required by the Maryland Board of Nursing with a 100% pass rate. They were given the opportunity to practice hands-on skills in local facilities and are now employable as Certified Nursing Assistants. Several will pursue degrees in Nursing at the collegiate level.
Talbot County Public Schools implemented the CNA program in 2021 through funding from the Maryland Career and Technology Education Innovation grant. The grant funded the purchase of medical-grade equipment and resources to provide students with a real-world nursing experience. The program is offered at Easton High and is also open to students from St. Michaels Middle High through cross-campus transportation.
The students who successfully completed the program this year are as follows:
Torian Copper, Emily Dickinson, Makenzie Ewing, Karlee Holly, Jazaiah Jackson, Peyton Jones, Ka'Niya Joseph, Katelyn Martin, Abigail Meadows, Ava Moore, Nai'ema Pierce, Ty'Mira Pinkett, Reagan Saia, and Gizelle San.
The four-course program uses project and problem-based learning, clinical and internship experiences, and classroom and lab instruction to teach students about the healthcare field. Students are introduced to healthcare knowledge and skills through two foundation courses with content developed by Stevenson University: Foundations of Medicine and Health Science and Structure and Functions of the Human Body. The program allows students to apply their learning to real-life healthcare situations. The final required course is a clinical internship arranged with local healthcare facilities, including HeartFields Assisted Living, Shore Regional Hospital at Easton, Talbot Emergency Services, and Talbot Hospice. Students who pass the end-of-course exams and successfully complete the program of study are eligible for transcripted credit through Stevenson University.
"We are so proud of our students, they worked extremely hard to study for their exam and did amazing in their clinical experiences," said Mariah Sorrell BSN, RN, and CNA Instructor. "We cannot wait to see what they do next! Our community is very lucky to have them as Healthcare members."
For additional information, please email Robin Werner, Career and Technical Education Curriculum Supervisor at rwerner@talbotschools.org or contact a school counselor.