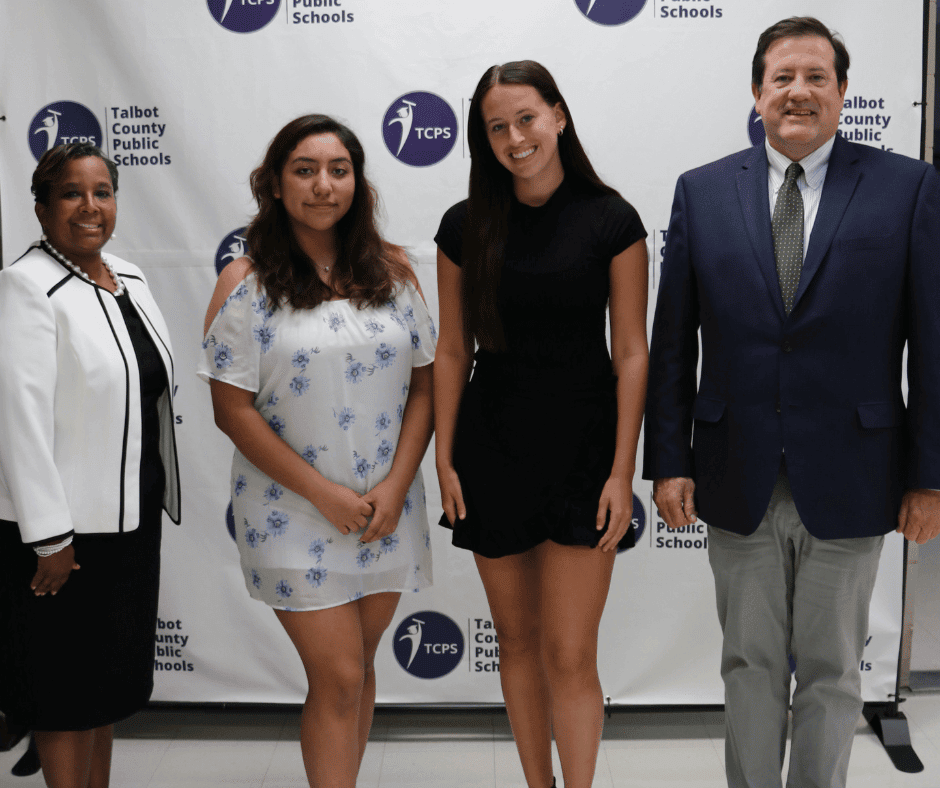 Easton High Senior Alondra Moreno Santana and St. Michaels Middle High Senior Abbie Kemp will represent their schools as student members of the Talbot County Board of Education for the 2022-2023 school year. The students were chosen following an application and interview process, and were officially sworn in during the September Board Meeting.
A lifelong resident of St. Michaels, Abbie Kemp has attended school on the St. Michaels campus since 4th grade. She plays varsity Field Hockey and Tennis and is involved in many school clubs, including National Honor Society, the Student Government Association (currently serving as President) and Students Helping Other People (S.H.O.P). She was also a founding member of the school's chapter of the Biomedical Engineering Society. Abby plans to attend a 4-year college with the hope of going on to medical school to become a trauma doctor.
"I feel so honored to be able to provide input on the future of education in Talbot County," Abby stated. "I hope to use this position to benefit the students of the Saint Michaels Campus and all of the schools in Talbot County."
Easton High Senior Alondra Moreno Santana currently serves as President of the National Honor Society, the National Art Honor Society, and the Latin Honor Society.  She is a member of the Yearbook, Ecology, Art and Latin Clubs, as well as the Varsity Indoor and Outdoor Track teams.  She has served as a "buddy" and coach for the Easton Elementary School Unified Sports program for students with disabilities and has volunteered at EES teaching basic Latin and STEM-based lessons. After graduating, Alondra plans to attend a four-year college to study something in a science field, and she hopes to eventually become a surgeon.
"I believe that this opportunity will be a great way for me to serve and to connect to my school and my community, as well as give back all that they have done for me," Alondra explained. "I am grateful to represent Easton High School and to have the opportunity to highlight all the hard work of my peers!"
"We are so thrilled to have our new student Board members join us," said Board of Education President Susan Delean-Botkin.  "They provide the Board an intimate look at the daily life of our high school students and provide input on student concerns and successes. We learn so much from them!"