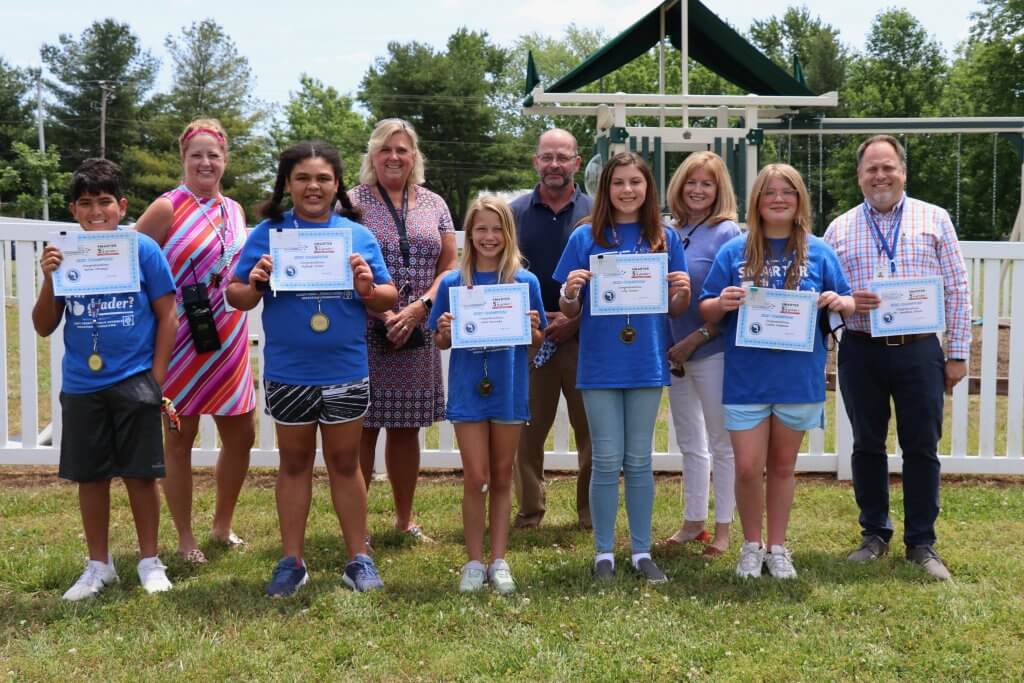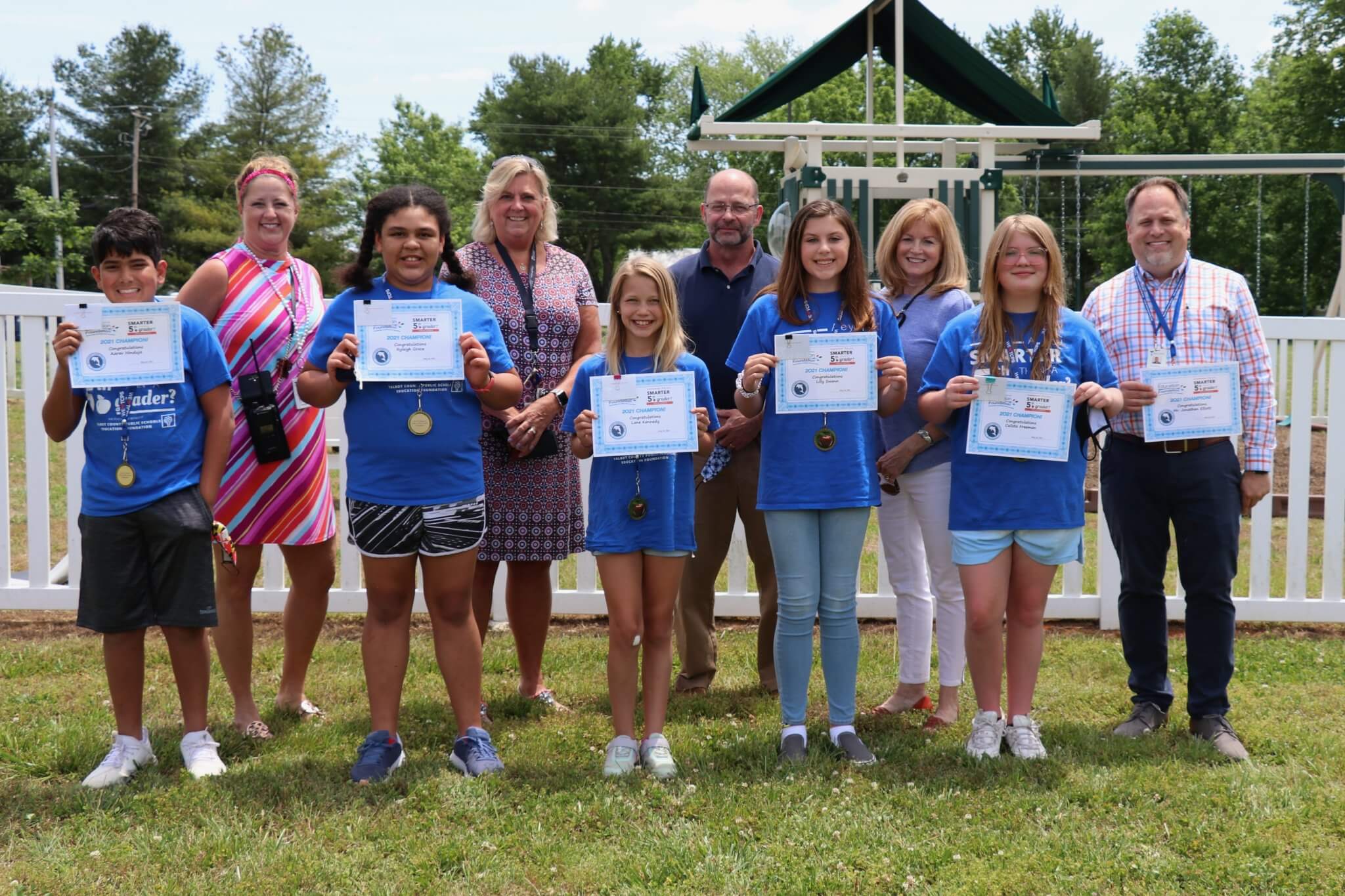 Dr. Griffith and Education Foundation Board members presented medals to the "Are You Smarter Than A Fifth Grader?" 2021 Champions from White Marsh Elementary School. (left to right) Aarav Hinduja; Ms. Kim Seidel, Principal; Ryleigh Groce; Dr. Kelly Griffith, Superintendent; Lane Kennedy; Mr. David Short, Education Foundation Board Chair for FY22; Lilly Swann; Mrs. Dale Raugh, Education Foundation Board; Calista Freeman.
The Talbot County Public Schools Education Foundation held its third annual "Are You Smarter Than A Fifth Grader?" fundraising event after a one-year hiatus due to the COVID-19 pandemic.  The event was pre-recorded and aired on Foundation and TCPS websites and social media pages on Wednesday, May 26, 2021.
Six teams of 5th graders from TCPS Elementary Schools tested their knowledge and skills, answering questions from a broad range of categories. Two preliminary rounds were held with three teams each. The winners of the preliminary rounds competed in the final round, with the White Marsh Elementary School team of Calista Freeman, Ryleigh Groce, Aarav Hinduja, Lane Kennedy, Lilly Swann, coached by Mr. Jonathan Elliott winning by 1 point!
The following students participated in the event:
Chapel District Elementary: Eliza Kimball, Jordan Langrell, Cole Philip, Ella Pittsinger, and Santiago Mendolia Ponce, coached by Mrs. Becky Crawford.
Easton Elementary Team 1 (winners of round two): Otto Perez Arreaga, Jose Garcia, Arrivillega, Reagen Cain, Violet Masone, and Sylis Showacre, coached by Ms. Kristy Ball.
Easton Elementary Team 2: Amna Asad, Maddie Biringer, Iliana Kahane
Aroldo Velasquez Perez, and Ah'Mir Rhodes, coached Ms. Kristy Ball.
St. Michaels Elementary: Taylor Bowen, Sydney Cummings, Kara James Lila McDermont, Will Moyer, and Kylie Womack, coached by Mr. Dan Bieber.
Tilghman Elementary: Marley Fletcher, Kaelyn Hicks, Sammy Jensen, Ella Marr and Alayna Porter, coached by Mrs. Jess Weems.
White Marsh Elementary (winners of round 1 and 2021 Champions): Calista Freeman, Ryleigh Groce, Aarav Hinduja, Lane Kennedy, and Lilly Swann, coached by Mr. Jonathan Elliott.
Proceeds from the event benefit the Education Foundation's grants program, and all funds were raised through sponsorships and donations. To date, the Education Foundation has awarded more than $108,000 in grants to TCPS teachers for innovative programs at the elementary and secondary level in nearly every academic discipline.
Mr. Jeremy Hillyard, Easton High Spanish Teacher, It's Academic Team Coach, and Education Foundation Board Member was Chair of the event. Easton High Juniors Bechora Aguoru, Harrision Fike, and David Gardner, It's Academic Team members, served as judges, and Mr. James Redman was once again Master of Ceremonies.
"It was a challenge to come up with a virtual format for the event this year," Hillyard explained, "but we are very pleased with the outcome and believe it gave us a much larger audience than we have had in the past. We are grateful to all of the sponsors for their support, some of whom made their gifts last year!"
A total of $10,170 was contributed through donations and sponsorships to "Are You Smarter Than A Fifth Grader?" 2021 from the following generous members of our community:
Team Sponsors
Anonymous – In Honor of Dr. Sherry Sutton
Armored Self Storage
Easton Drywall
Educational Systems Federal Credit Union
Hertrich Chevy Buick GMC
Soistman Family Dentistry
Category Sponsors
Easton Utilities
Graham and Brenda Lee
Shore United Bank
Question Sponsors
Stan and Pam Bright, Pamela Clay, Annie Decker, Frances Firth, The Gardner Family, Dr. Kelly Griffith, Anjali Hinduja, Juanita Hopkins, Martha Horner, Lane Engineering, Pete and Mariana Lesher, Mid-Shore Community Foundation, Jo Ann Asparagus Murray, Ellen Rajacich, Dale Rauch, Margaret Rennels, MD, Talbot County Retired School Personnel, David Wheeler
Donors
Childlene Brooks, Mike and Karen Fisher, Michael Garman, Betsy Griffin, Lindsey Higginbottom, Jeremy Hillyard, Andrea Shoener, David Short & Associates LLC, Mark Showacre, Norma Slyder, Sharee Smith, Vickie Wilson
To learn more about supporting the Talbot County Public Schools Education Foundation, please contact Debbie Gardner, Coordinator of Public Relations and Special Programs at dgardner@talbotschools.org or by calling 410-822-0330.